Greetings!
This article, Albus Nuibari, is property of SkyHawk31. Please ask before putting a link to this character in your page!
Albus Nuibari
Age
19
Gender
Male
Species
Half-Fishman
Blood Type
B+
Birth Date
2/7
Height
5'11"
Weight
180
Occupation
Pirate, Hero of Justice
Town of Origin
 ?
Devil Fruit
None
Current Bounty
107,300,000
Epithet
"Sekiningen"
Crew
Blackmoon Pirates (Former), Midori Continuum
Family
Brother
Appearance
Edit
He is a half fishman electric eel
Personality
Edit
Weapons/Powers
Edit
He is primarily a swordsman but he has been known to use his fists. Albus is often refered too as the monsoon swordsman due to his habit of picking fights in the rain. He is an electric eel fishman and is capable of generating powerful electric shocks.
Special Attacks
Edit
taze: stun an opponent
Weaknesses
Edit
Relationships
Edit
Kenshi Nuibari - Brother
Past Events
Edit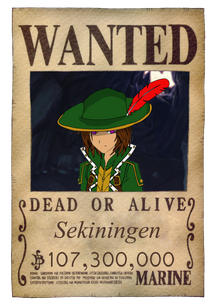 Current Events
Edit
He is obsessed with claiming "Amehohaba" and "Nameshigawa Aoiro" of the 17 Swords of Kazuki Ueda
Related Articles
Edit