Terra Frio was the dictator of Frioterra until Hyobachi was denied supplies by his guards and he was beat up for angering Hyobachi. He is currently in Impel Down after being arrested by the Marine stationed at the base in one of the smaller towns.
Appearance
Edit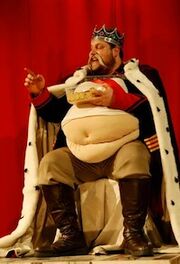 Powers/Abilities
Edit
He was the user of the Yuki Yuki no Mi, he was killed by Onshu Amore and with his death the fruit returned into development.
Terra Frio shares his devil fruit with the actual One Piece character Monet.